Guiding investors to Financial Success
Passive Investing Mastery
Featured Passive Investment Opportunities

Recessionary Acquisitions Fund
Invest In The Upside Of Downturns
Projected Returns
| Years Invested | 3 | 5 |
| --- | --- | --- |
| Equity Multiple | 2X | 3X |
| Annual Average Return | 30% | 40% |

Recessionary Income Fund
Real Estate Backed Debt Portfolio
Live Webinar on Nov 9th @ 5PM Pacific
*Investor Requirements: Income > $200k, (or) combined w/ spouse > $300k, (or) combined net worth > $1M, (or) Accredited investors
Alternative Investing Series
The best AI tools you should be using in any industry today
Areas of your business where AI can make a BIG difference
Tools we use to enhance productivity and efficiency
Specific prompts and process we use with Chat GPT and Google Bard
And, we will unveil the AI tools we use to help with property management, deal finding, underwriting, contracts, and more…
Live Q&A to give you the answers you need



Showing You How To Diversify Into Alternative Investments
Revealing the the wealth-building passive investments with enduring cash flow and appreciation, that are not correlated with the roller coaster of the stock market.
Helping You Become The Hero of Your Financial Security
Providing the education you need to become the Chief Investment Officer of your family's legacy.
Empowering You to Achieve Your Full Potential
Giving you your time back to spend focusing on your family and friends, and giving you the financial resources you need to make an impact on the causes you care about most.
Our Founder, Patrick Grimes
Patrick is the CEO/Founder of Passive Investing Mastery. Since 2007, Patrick has purchased, renovated, and stabilized distressed real estate assets for long-term cash flow. He is also the founder of Invest OnMain Street, a private equity firm that has raised over $50M to acquire a $600M+ portfolio including about 5,000 units in multifamily apartment communities in emerging markets across Texas and the southeastern U.S.
In addition to his real estate experience, Patrick holds a Bachelor of Science in Mechanical Engineering from University of the Pacific, and a Master of Business Administration and a Master of Science in Engineering from San Jose State University. He has spent 15 years in corporate America working for machine design firms to concept, design, and build one-of-a-kind custom manufacturing automation and robotic systems. In addition to working closely with the technical engineering teams, he travels globally working to negotiate contracts and secure multi-million dollar investment for automation programs. He has been able to leverage his corporate experience and real estate knowledge to help pave the way for future success.
#1

Amazon Best Selling Book


Patrick Grimes, Co-Author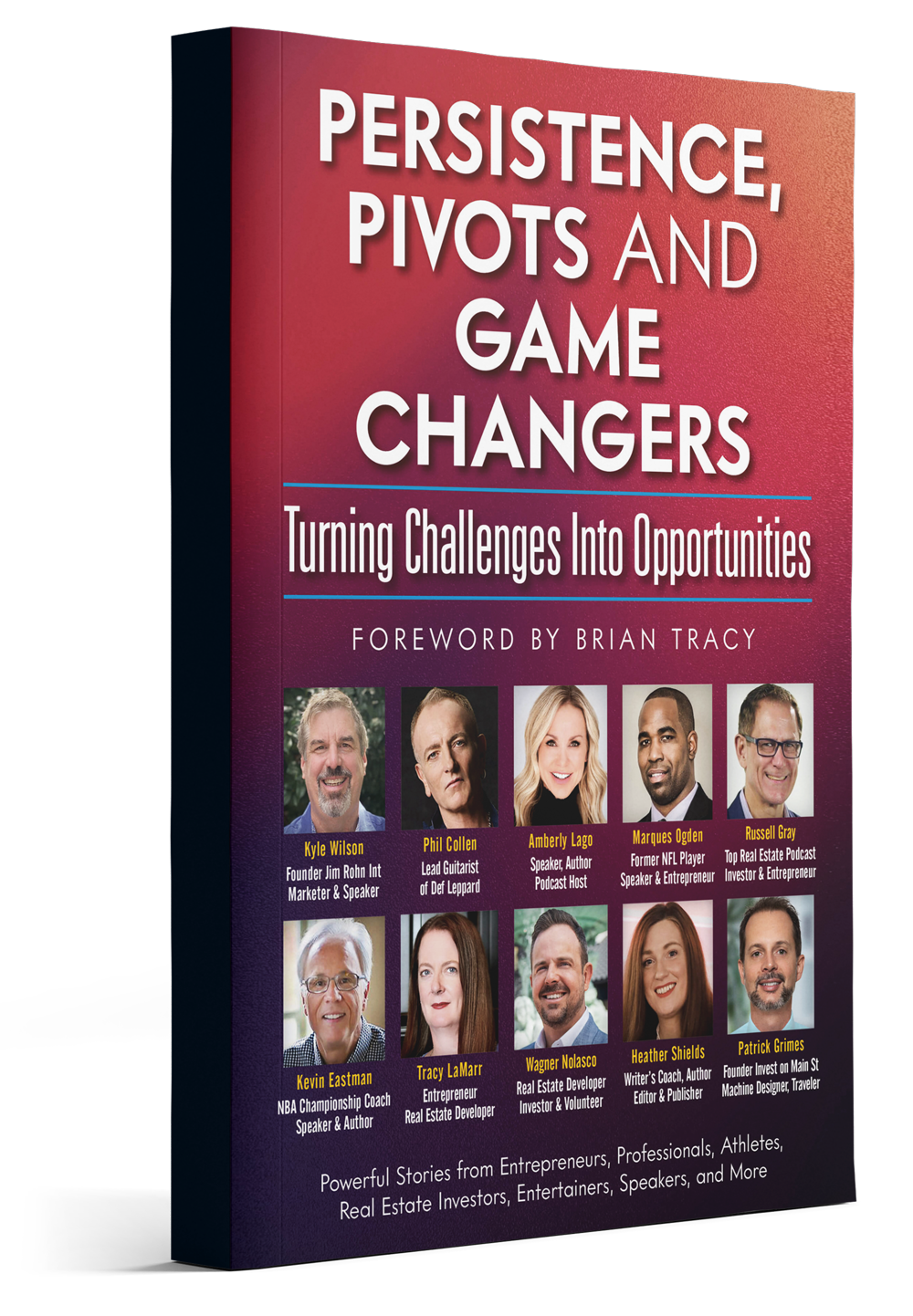 Know The Story Of Transformation And Growth From
Patrick Grimes, Founder Passive Investing Mastery, Machine Designer, Traveler and more!
Phil Collen, Lead Guitarist of Def Leppard
Glenn Morshower, Film & TV Actor, Speaker, and Teacher
Kevin Eastman, NBA Championship Coach, Speaker, and Author
Marques Ogden, Former NFL Player, Speaker, and Entrepreneur
Russ Gray, Co-Host of The Real Estate Guys Radio Show
Kyle Wilson, Marketer, Publisher, and Founder of Jim Rohn International
Receive A Signed Hard Copy Shipped For Free
Instead of purchasing the book on Amazon, we'll ship you a hard copy as a WELCOME GIFT for setting up an investor introductory call with us.